Competitions
We've found this year's LiveRentFree top dog...
Reading time: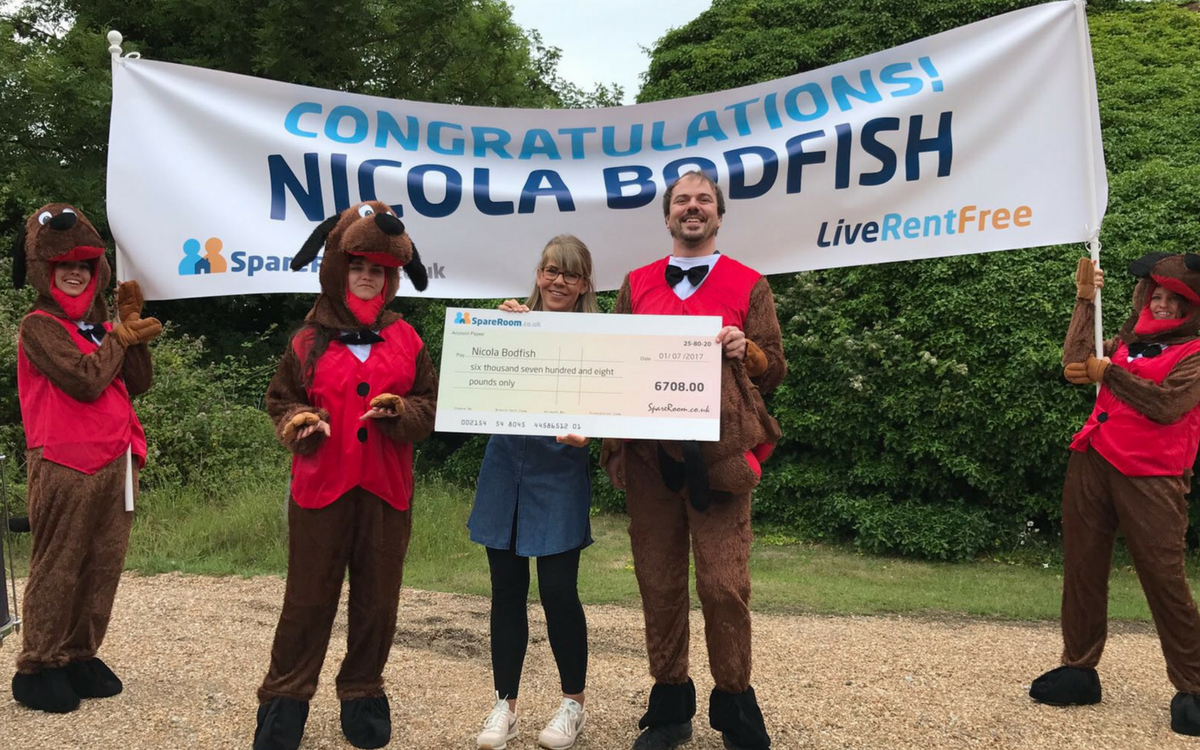 A 25-piece samba band, four SpareRoomers in dog fancy dress and a giant cheque for £6,708. It's the stuff dreams are made of, right?
Or at least it was for 29-year-old Nicola Bodfish, a Brighton-based canine-grooming enthusiast and the latest winner of our annual LiveRentFree competition.
But let's paws (sorry) and go back to the start. In May, we invited renters to share their dreams of how they'd spend a year's free rent. Over 80,000 entries (and a LOT of hilarious responses) later, we found our winner Nicola, whose dream was quitting her job to start a dog grooming business.
Such an insane prize deserved an equally insane reveal, so we decided to surprise Nicola on Saturday 1st July, while she was (aptly) studying at The Dog Hut Canine Studies college in Polegate. Our squad included a samba band, four SpareRoomers dressed as giant dogs, a banner with Nicola's name plastered across it, and a HUGE cheque for £6,708 (a year of her rent) hand-delivered by Rupert, our CEO and Founder.
Her reaction? Worryingly cool, calm and collected on camera, but overall as chuffed as you'd expect: "Saturday was absolutely crazy. I really can't thank you guys enough for such an awesome surprise – you don't know how much this will help me progress the business plans. I don't think it's even sunk in yet!"

Keep your eyes peeled for Sussex-based canine updates, and in the meantime why not have a think about what you'd do with a month's free rent? Our monthly LiveRentFree competition could make it happen sooner than you think…