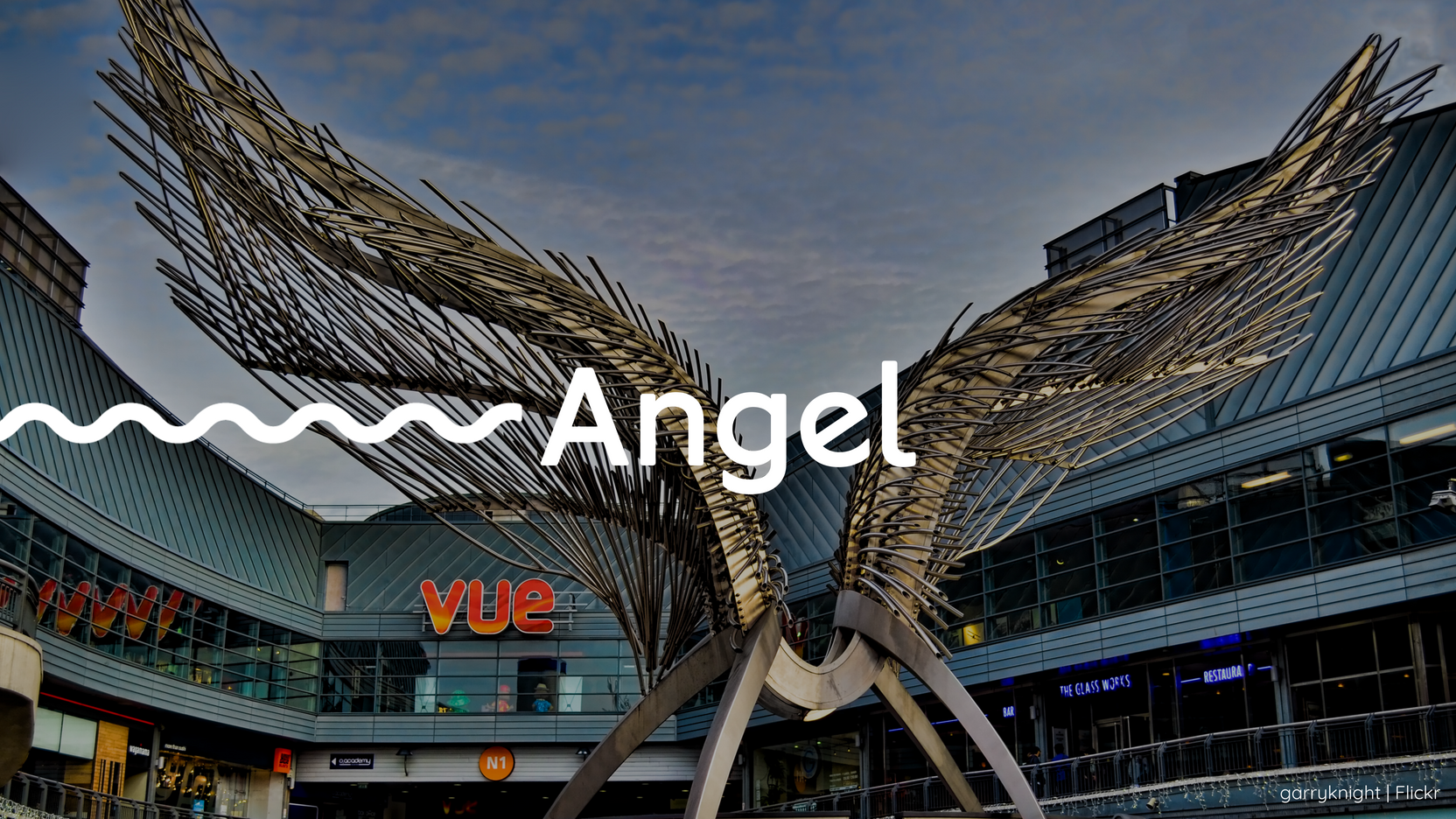 Angel is a lively neighbourhood, despite taking up just a small corner of the Borough of Islington. Marvel at the Georgian and Victorian architecture or get lost in the busy side streets filled with independent places to eat and drink. It's also renowned for being home to some of the best antique shops outside west London!
Where is it?
Named after the former Angel Inn on the corner of Islington High Street and Pentonville Road, Angel has been a part of the London Borough of Islington since 1965. You can find it adjacent to Kings Cross and just North of central London.
What's the transport like?
Angel is a stop on the Bank branch of the Northern line, between King's Cross St. Pancras and Old Street. Highbury and Islington, on the Victoria line or Overground, is also just a 20-minute walk from Angel station. There are also plenty of buses passing through that will connect you to central and all corners of London.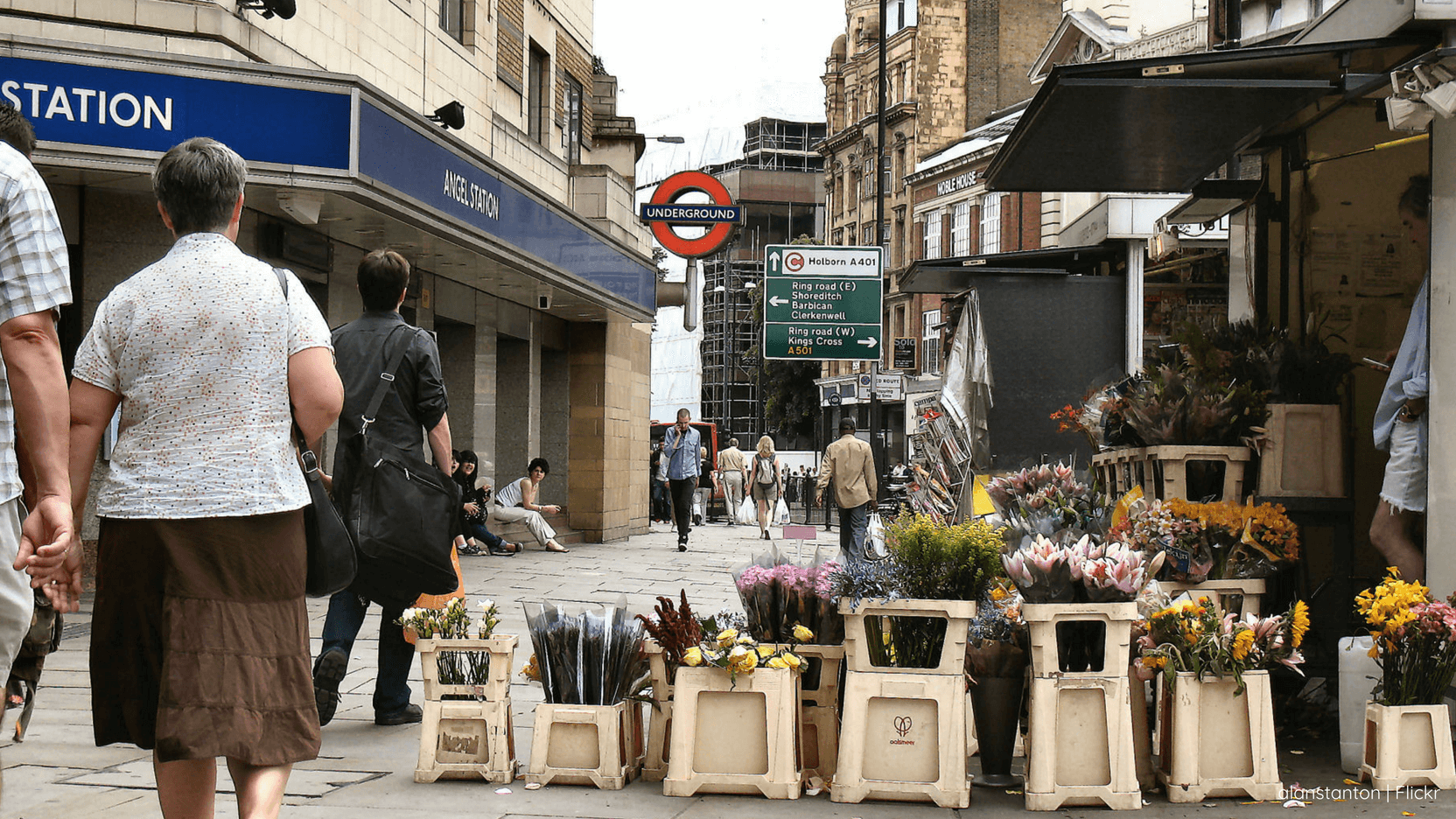 Where do the locals go?
Parks:
Islington Green is a small park at the intersection of Upper Street and Essex Road. It's generally thought of as the centre of Islington, so is the perfect meet-spot before an afternoon exploring the area with friends.
You can head towards Highbury Fields, Islington's largest park, which includes a playground, bandstand, fitness centre and outdoor netball, football and tennis courts. Alternatively,head down to the beginning of Regent's Canal and follow it all the way to Limehouse in east London if you want to get your steps in (or stop off at the pub on the way!)
Events & Activities:
If you're in need of a mid-week pick-me-up, Angel Comedy Club is one of London's most popular comedy spots. The venue puts on between 20-30 shows a week (most of which are free), featuring a mixture of up-and-coming and well-known comedians who come to test their material in front of a live audience.
Screen on the Green is a branch of the Everyman cinema chain set in one of the oldest continuously running cinemas in the UK. It's famously known for its 'Midnight Special' in 1976, where The Clash Supported The Sex Pistols in a showcase. These days you can take a seat at this intimate one-screen venue and grab a drink at the on-site bar.
Go to a gig you'll never forget at Union Chapel. Take a (literal) pew and admire the gothic architecture of the venue whilst listening to live music. There's a reason chapels were designed to have excellent acoustics! If music isn't your thing, they also host film screenings, comedy, and spoken word events. All the profits go towards the restoration of the building and charity within the local community - what's not to love?
For any art fiends out there, you'll want to check out the Estorick Collection, as it's London's only art gallery exclusively exhibiting 20th-century Italian art. Find the gallery inside a restored Georgian townhouse with a bookshop and on-site cafe.
The best restaurants:
Angel may be small but it certainly doesn't lack on choice of places to eat.
Tofu Vegan offers a menu of completely plant-based classic Chinese dishes. The restaurant itself is unpretentious with prices to match, and the food is so good that you shouldn't just reserve this spot for when your vegan friends come to visit.
Trigger 80s notalgia with a visit to The Breakfast Club. Expect stacked American pancakes with lashings of butter and maple syrup, or get your greasy spoon breakfast fix with a fry-up and all the trimmings. Their extensive all-day brunch menu is a Saturday morning dream.
If you want to impress, book a table at Afgan Kitchen. This hidden gem celebrates cuisine from Afghanistan - think stews, kebabs and curries. We recommend ordering their signature dish, the lamb shank!
The best pubs:
A short walk from Angel station alongside Regent's Canal you'll find The Narrowboat. Unfortunately, the pub isn't on an actual boat, but their outdoor seating is close enough to the water that you'll feel as if it was. Head down for an after-work drink or join their 'Work from the Pub" Mondays to start your week off right.
The Old Queens Head is a classic old-timey pub complete with 16th-century fireplaces, worn sofas and bespoke chandeliers. Catch a live performance on the weekends or put on a performance of your own with friends in their karaoke room. Or if the weather is looking good, enjoy a drink on the rooftop terrace at The Castle.
Reserve Bar With No Name for a payday treat and spend an evening indulging in aperitifs and experimental cocktails. Live your downtown fantasy in this speakeasy-style bar, accompanied by performances of live jazz, blues and rock and roll. They also have a house pianist on Wednesday and Sunday evenings.
The best coffee shops:
Stop at pretty much any cafe along Camden Passage and you're guaranteed to find a decent coffee. However, we recommend stopping off at Kipferl to try a slice of their authentic Austrian Sachertorte or Apfelstrudel. Redemption Roasters also does an exceptional brew and has a secret back garden that's perfect for sunny afternoons.
You can recognise Vagabond n7 from its quirky stripped-back interior and reclaimed furniture tables and chairs. Get your hands on some of their artisan-baked snacks and sit in their patio area to escape from the hustle and bustle of the street.
Shops:
Turn off Upper Street and you'll find a traffic-free cobbled alleyway - otherwise known as Camden Passage. Much like Portobello and Spitalfields markets, it's home to some of London's best antique and boutique shops. Check out Japanese Gallery for scents from an authentic perfumery, or dig for antiques from Dreamtime, Caroline Carrier or Argosy Antiques.
Chapel Market is known as 'The heart of the Angel' as it's been running within the community for over 150 years. It's open every day except Monday and sells fruit, veg and fish. Sellers encourage you to bring your own containers and bags to cut down on waste - guaranteed to be less expensive than doing your weekly shop at Sainsbury's!
What's it famous for?
Angel is the third-cheapest property in the board game Monopoly, reflecting the downmarket state of Islington up until the 1980s. Now the area is popular amongst celebrities including Lily Allen and Kate Winslet.
---
Now we have your attention… we'd like to say a little thank you for reading this article and following SpareRoom.
We also say a BIG thank you every month to one lucky user – with our Live Rent Free competition, where we pay one winner's monthly rent, every single month. Fancy it? It's FREE to enter, and you can enter every single month. What are you waiting for? Click here and cross everything…