Interiors
4 landlord-friendly flatshare interior hacks
Reading time: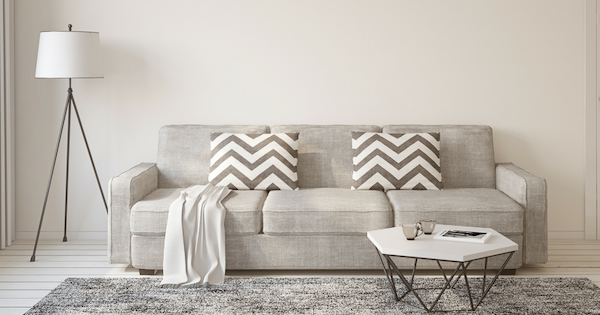 Living in a fully-furnished and decorated flatshare is a bit of a mixed blessing. Sure, you don't have to fork out on buying your own wardrobe and bed (nor do you have to deal with the *many *perils of flatpack assembly), but you DO often have to deal with some of your landlord's more questionable tastes – gem-encrusted leather sofa, anyone?
While you can't usually replace furniture without good reason (injury/destruction/etc) and you probably won't be allowed to redecorate or hang pictures up either (boo), there are a few easy things you can do to make your space feel a little more chic.
1. Throw over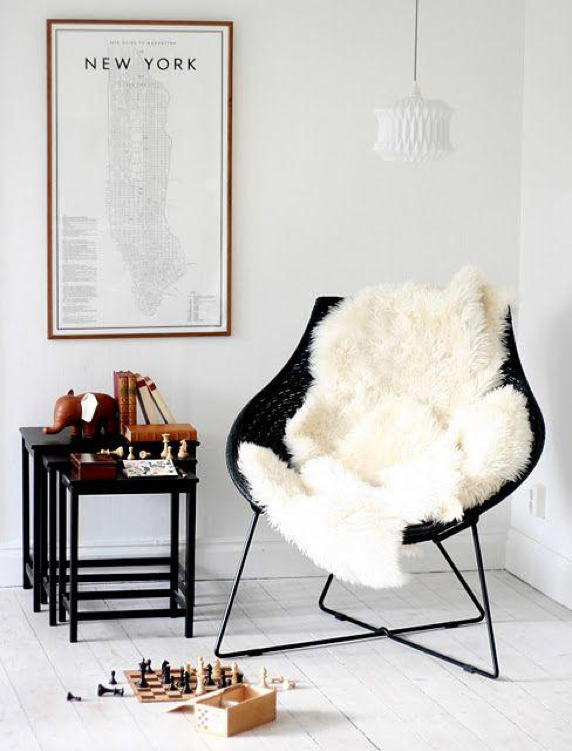 Source: Pinterest
Invest in a throw and watch every aspect of your home life improve. Cold? Snuggle up in a throw. Ugly chair? Chuck a throw over it. It's probably the easiest way to transform a gross piece of furniture in 5 seconds flat – opt for a fur throw on a metal-legged chair for extra Pinterest points. You can find these at places like B&Q, Wilko and Primark Home and they'll make your flatshare feel like a Nordic ski lodge for under £30. We particularly like [this one](http://www.wilko.com/bedspreads-throws/wilko-faux-fur-print-throw-natural-150-x-200cm/invt/0438066?gclid=Cj0KCQjwnubLBRC_ARIsAASsNNnc0xuHLLax7cjPwOsMtldw-e-6FQGQe04TJYhwU5V6h-qH-lkEpXsaAj1lEALw_wcB&gclsrc=aw.ds) for its snow leopard vibes and machine washability.
2. Stick 'em up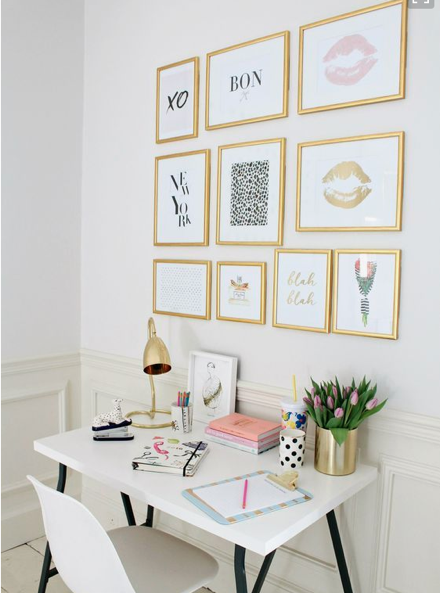 Source: Pinterest

One of the biggest drawbacks of your flatshare's magnolia walls is, well…how magnolia they are. If you're REALLY unlucky, you won't even be allowed to put any nails in and you'll have your deposit slashed for any blu-tack marks too. So what *do *you do to the walls, when you're not allowed to do anything?

Bring on the stickers. ALL the stickers – in the genius form of self-adhesive wallpaper, which allows you to quickly create a nice feature wall (or cover your entire room) without any long term damage. Turn your room into a leaf-filled jungle, add a touch of "marble" or opt for some straightforward geometric shapes – the possibilities are endless, and can be ripped right down at the end of your tenancy with zero evidence. Etsy has a unique selection from a collection of independent sellers.

Obviously you're going to want to put some frames up too, and let's face it: your family photo deserves that honour (as do those hilarious quote postcards from Paperchase). Luckily you can also do this without causing hassle and landlord upset, by investing in a £3.50 pack of Command hanging strips. These stick onto both wall and frame, and slot together using strong bonds that hold your works of art like an absolute dream. Best of all, they come straight off cleanly without taking chunks of plaster with them.

Article Continues Below
---
------
3. Can you handle this?
Give your cabinets and drawers a quick landlord-friendly refresh by investing in some alternative handles and pulls. You can pick these up for about £5 per handle, which adds up but you can take them with you wherever you move next so think of it more as an investment piece. We love the unique selection at[ John Lewis](https://www.johnlewis.com/browse/home-garden/diy/cupboard-door-knobs-handles/_/N-cul), spanning everything from brass animals to crystals and patterns. Just remember not to throw away the old ones…
4. Plants are EVERYTHING
…so put them EVERYWHERE. Large, potted plants, mini cacti and sprawling spider plants – they can all move wherever you do, so splash out on the best and fill every room with botanical beauty (proven to induce joy, we promise). [Ikea](http://www.ikea.com/gb/en/products/decoration/plants-pots-stands/plants/) have a brilliant, super cheap selection that come potted and ready to scatter EVERYWHERE, or head to [Patch](https://patch.garden/) to tailor your very own unique urban jungle – room by room. Just remember: with great plants, comes great responsibility. Don't forget to feed them.

Looking for a new room to call your own, and weave your interior design magic on? We've got over 80,000 rooms and flatmates on offer so you're bound to find one you love.