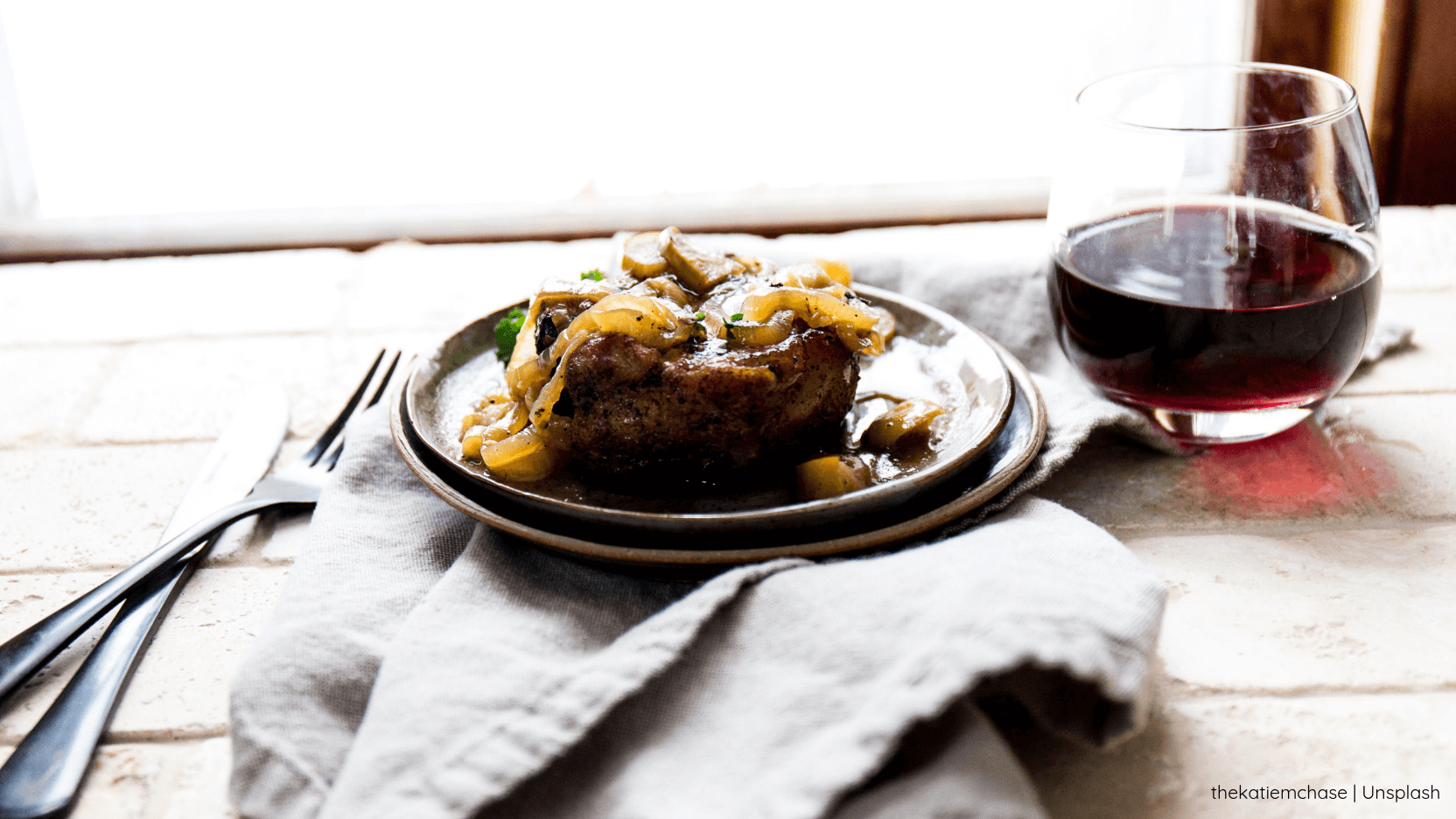 Nothing screams "Sunday" more than a juicy chunk of meat, drizzled in gravy, accompanied by crispy yet fluffy roast potatoes, cauliflower cheese and some tender veggies… Is your mouth watering yet?!
Sunday roasts in London are truly epic – such a big city means plenty of places to choose from, so now's definitely the time to get started. We've put together the ultimate list of venues to score yourself a dreamy Sunday roast, for both carnivores and vegetarians alike. We'll see you there with a cheeky glass of red in hand…
North London
The Pig & Butcher (Islington)
This laid back pub has become a favourite amongst N1's locals, for its countryside vibes and incredible food. On Sundays, the restaurant really comes into its own with an insane line up of roasts – they're all available in a sharing size too and each comes served with beef dripping roasties, creamy leeks, and a huge Yorkshire pudding. Whether it's pork, lamb, beef or chicken you're after, you can guarantee the meat you're eating will be divine – it's all sourced from British farms via the on-site butcher. Veggies aren't forgotten either (hello artichokes and goat's curd), and the dessert selection is worth saving room for too…
The Jolly Butchers (Stoke Newington)
This pub is a proper North London boozer. Not only does the place stock one of the biggest ranges of ales, beers, stouts and lagers we've ever seen… they do a pretty decent roast too. Choose from every kind of meat, served with all the trimmings – and if you're a vegetarian or vegan you're in for a treat too, with three different options on the menu.
East London
Oslo (Hackney)
Oslo is an unassuming building from the outside, but a total delight inside – blending Hackney's hipster vibe with Scandinavian chic (i.e. plenty of lamps, flowers and minimalist furniture). It's a great place for a drink, but an even better place for good food. The Sunday highlight here are the GIANT Yorkshire puddings that come with every roast – the perfect vessel for gravy-holding/potato dunking… Choose from chicken, beef or a nut roast, accompany with an OSLO lager, and brace your Instagram – this has got Valencia filter written all over it…
The Culpeper (Shoreditch)
The atmosphere inside The Culpeper is what makes it such a favourite for locals – it's calm but cool, and there's LOADS of plants. Winner. It's an ideal spot to gather with friends on a Sunday, as the menu is all about sharing – it's served for the table on a big plate, and it's definitely more than enough for one (or even two) helpings each. The roasties are raved about for their perfect crunchy/fluffy ratio, and the Bloody Marys are epic too. The stuff of hangover-curing dreams.
City of London
The Jugged Hare (Barbican)
Okay, we know Barbican's not the most obvious spot for a weekend lunch, but trust us. The Jugged Hare is a beautiful, cosy gastopub right by the Barbican Centre – and as London's self-proclaimed "leading game restaurant", they know a thing or two about decent meat. The roast is pricey (from £23), but you get a lot of meat for your buck and some seriously tasty sides too (duck fat roasties, anyone?). If you're not such a carnivore, the Sunday menu has some tasty veggie salads too and a great offering of fresh fish dishes.
Hawksmoor( (Piccaddilly)
Sunday roasts are so popular at Hawksmoor that they can't guarantee you'll get one if you turn up after 5pm… you have been warned. This legendary steak institution will definitely not disappoint though – the joints are roasted over real charcoal before they're finished off in the oven, for an unbeatable, juicy flavour. Variety isn't their forte (you can only get slow roast rump beef) but you can't fault the level of attention this dish has obviously received. If you don't fancy it, you can order from the regular menu too – which offers steaks, fish dishes and a particularly tasty-sounding charcoal-grilled cauliflower and chickpea dish.
South London
The Ship (Wandsworth)
It's out on a bit of a limb and a pretty long walk from any public transport, but The Ship is totally worth going to SW London for – their roast has even been nominated for awards! Expect to wait a bit for a table, but it's more than worth it. The portions are generous, the meat is tender and the Yorkies are made with double the eggs for serious fluffiness. The vegetable sides are far from bland either: the braised spiced red cabbage is one of London's finest, and swede puree is a great dipping sauce for potatoes. And how good does the Veggie Wellington sound? Roasted butternut squash, spinach and goats cheese wrapped in filo pastry… #foodporn
The Camberwell Arms (Camberwell)
Back in 2017, The Guardian crowned this roast as their favourite out of London's top 50. And it doesn't sound half bad either… Classic roast meats are mixed up with different sides like mash and dauphinoise potatoes, so if you like traditional it's not for you – but reviews rave about the way the meats are glazed and the lighter additions of salad to some of the dishes. Again, there's a focus on sharing. If you can bring yourself to, that is...
West London
The Imperial (Fulham)
This swanky pub is in the middle of Chelsea Design Quarter, so you can obviously expect style. Luckily it's got substance too, particularly on a Sunday. The roast menu is small but perfectly formed – we'd recommend taking the plunge with a Pork Sharing Feast including honey roast ham, crackling, sticky pork cheeks and apple sauce. Delish.
Parlour (Kensal Green)
Sunday lunches at Parlour are, in a word, epic. Don't neglect the starters (duck terrine, three-cheese macaroni cheese and whole baked mackerel all feature), but make sure you've saved room for the main event. It's a traditional Sunday roast with all the trimmings, and if you really can't decide, you can go for a bit of everything with a supersized portion. Hell to the YEAH.
Image credit: thekatiemchase.