News & Comment
Presenting: the 41-cheese Eurovision pizza
Reading time: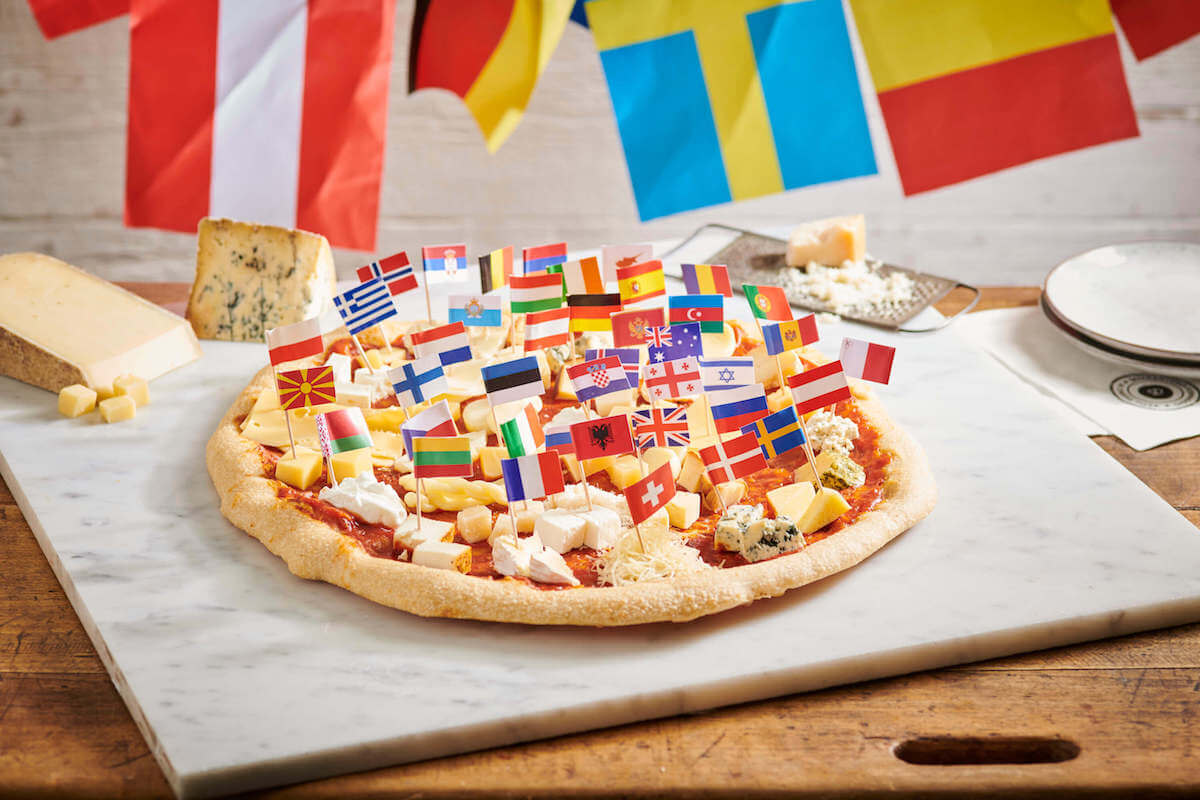 Disclaimer: the pizza photographed here was created for illustrative purposes only. The actual pizza you can try will be made with a different technique for maximum cheesy flavour.
The Eurovision Song Contest. It's arguably the cheesiest night in the calendar year, right? And it's also the night to don your most flamboyant outfit and throw a fabulous party with a live screening of the event – because let's face it, this is truly unmissable TV…
This year we've decided to help you make your Eurovision party even better by creating the ultimate catering addition: the Quarantuno Formaggi pizza. Or in English, a 41-cheese pizza.
The pizza features a chunk of the good stuff from each nation competing in the event in a gooey, melted medley – for a pizza that's even cheesier than the event that inspired it. Check them out below:
Albania: Kaçkavall style cheese
Armenia: Chechil Cheese Braid
Australia: Extra Mature Cheddar
Austria: Austrian Smoked Cheese
Azerbaijan: Kajmak Travnik
Belarus: Quark
Belgium: Pie d'Angloys
Croatia: Paski sir
Cyprus: Halloumi
Czech Republic: Korbaciky unsmoked
Denmark: Castello Danish Blue
Estonia: Andre style cheese
Finland: Leipäjuusto style cheese
France: Camembert
Georgia: Juanpils Sulguni
Germany: Beechwood German Smoked
Greece: Epiros Greek Feta
Hungary: Randolder style cheese
Iceland: Skyr yogurt
Ireland: Cashel Blue style cheese
Israel: Tal Haemek style cheese
Italy: Parmigiano Reggiano
Latvia: Talsu Ritulis Green
Lithuania: Luksiu Suris
North Macedonia: Kashkavel style cheese
Malta: Gbjena style cheese
Moldova: Rossiyskiy
Montenegro: Pljevaljski style cheese
Netherlands: Gouda
Norway: Jarlsberg
Poland: Mlekpol Krolewski Z Kolna
Portugal: Queijo Azeitao Quinta Do Anjo Dop Simões
Romania: Branza Burduf
Russia: Salt Smoked 'braid' Kosichka style cheese
Serbia: Bryndza
San Marino: Auricchio Mild Provolone
Slovenia: Trnic style cheese
Spain: Manchego
Sweden: Åseda Gräddost
Switzerland: Emmental
United Kingdom: Wensleydale
Better still, Londoners can get their hands on one in IRL throughout Eurovision day (18th May) – the pizza pros at Baz & Fred's Flat Iron Square pizzeria will be serving them up between 12.30-5.30pm or 6-10pm. Check out a pic of the actual pizza below! They're FREE to try, just nab a slice of the action while you can cos when they're gone, they're gone…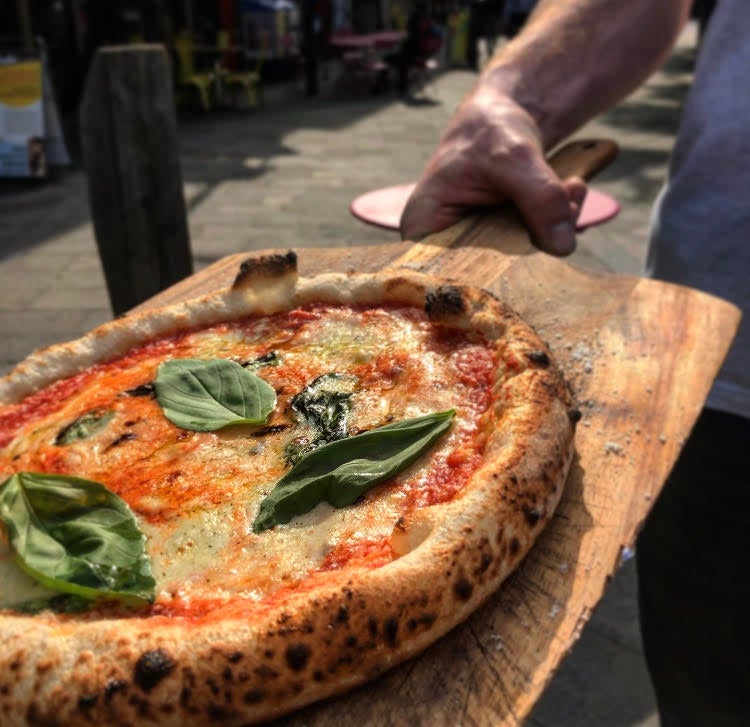 And if you can't make it, fear not. We've got a recipe here to help you whip up your very own fromage-filled delight at home.
Whether you're trying our crust creation or just throwing your own extra cheesy party this year, we'd love to hear about it! Tag us on Instagram @spareroomuk with the hashtag #41CheesePizza and show us your homage to fromage.