How to make your own super cheesy pizza
Here at SpareRoom we LOVE Eurovision. We also love pizza, and so do you (apparently) – our data shows it's the number one food that flatsharers love to order in.
So this year we decided to make it the cheesiest Eurovision ever by creating a 41-cheese pizza, including a cheese from each country competing in the famous song contest. It's the perfect catering option for your Eurovision party this year.
We've teamed up with the master pizza makers at Baz & Fred to bring our vision to life – so if you want to get your hands on the gratest pizza around, you can nab one for FREE throughout the day of Eurovision (18th May), from Baz & Fred's Flat Iron Square pizzeria.
But if you don't live in London you don't have to miss out on the fun. Baz & Fred have shared a recipe to make your own at home, just with slightly less cheese – cos we're guessing you don't have time to get 'em imported from the likes of Azerbaijan, Latvia and Cyprus...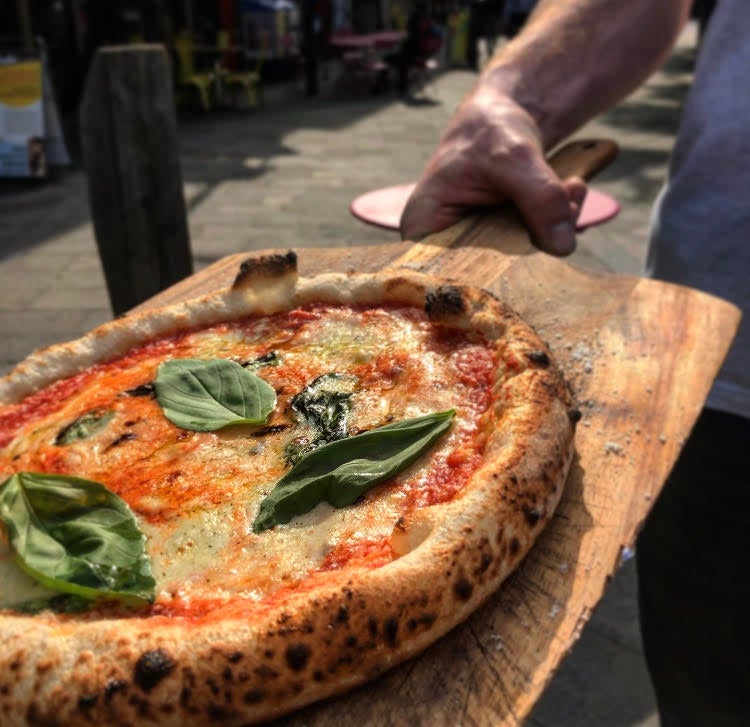 Baz & Fred's 10-cheese pizza
Ingredients
(Makes 4-5 large bases)
600g strong bread flour
20g salt
7g yeast
325ml water
Method
Mix the flour and salt together in a large mixing bowl. Then pour the flour onto a clean work surface, leaving a hole in the middle to add water.
Mix the yeast and water together in a bowl until all the yeast is dissolved. Add water to the flour/salt mixture gradually, and knead the dough until it's smooth.
Place the dough into a mixing bowl and leave it covered with a damp tea towel for an hour and a half, by which time it should have doubled in size.
Portion this dough into 190g segments and roll into balls – use two hands to fold the dough into the same centre point until a tight ball is created.
Place the dough balls into an airtight container, making sure you leave enough space for them to rise. Leave them for another 2-3 hours to rise more. Once this time has passed, put them in the fridge if you don't want to use them straight away.
Flour a clean surface and flatten out the dough with your hands, before using a rolling pin to roll the dough out to your desired size and thickness.
Preheat your oven to 250°C (or the highest it'll go).
Place the base on a lined baking tray, ready for your toppings...
Recommended cheeses for topping:
Mild white cheddar
Edam
Beechwood smoked cheese
Feta
Parmigiano Reggiano
Boursin
Hard mozzarella
Gouda
Emmental
Manchego
Assembling the pizza:
Spread 2-3tbsps of ready-made passata sauce over your base.
Grate a small amount (about 20g) of all the hard cheeses, and sprinkle over the tomato base. With the softer and more crumbly cheeses, just break a small amount off and add to the topping.
Place in the oven for 10-15 minutes, regularly checking. Once the cheeses are all melted and the crust is nicely browned, it's ready to take out the oven.
Season with basil (optional) and serve hot.
Top tips for making the best pizza possible
Use high quality flour – Flour's the main ingredient of your pizza, so investing in a higher quality 'strong' flour can make a huge difference to the flavour and how the base forms.
Be patient – Take time kneading the dough. You'll be rewarded with a tastier crust and a better pizza...
Season the sauce – If you want to make it even tastier, fry off some onion and garlic in a saucepan and mix into the passata along with some dried Italian herbs.
Preheat the oven – Sounds simple but preheating your oven to the highest temperature before cooking the pizza will result in a much better bake. Some ovens can take a while to hit full temperautre, so leave enough time.
Season away – Once the pizza is cooked, you can add a drizzle of extra virgin olive oil, parmesan and basil for extra flavour.


Head to Baz & Fred's Flat Iron Square pizzeria between 12.30-5.30pm or 6-10pm on 18th May 2019 to get your hands on a 41-cheese pizza. They're free and available on a first come, first served basis until they sell out (and they will sell out, obviously...)
Disclaimer: the pizza photographed in the main image is a stock image used for illustrative purposes. The pizza you can try has been made specially for maximum cheesy flavour!