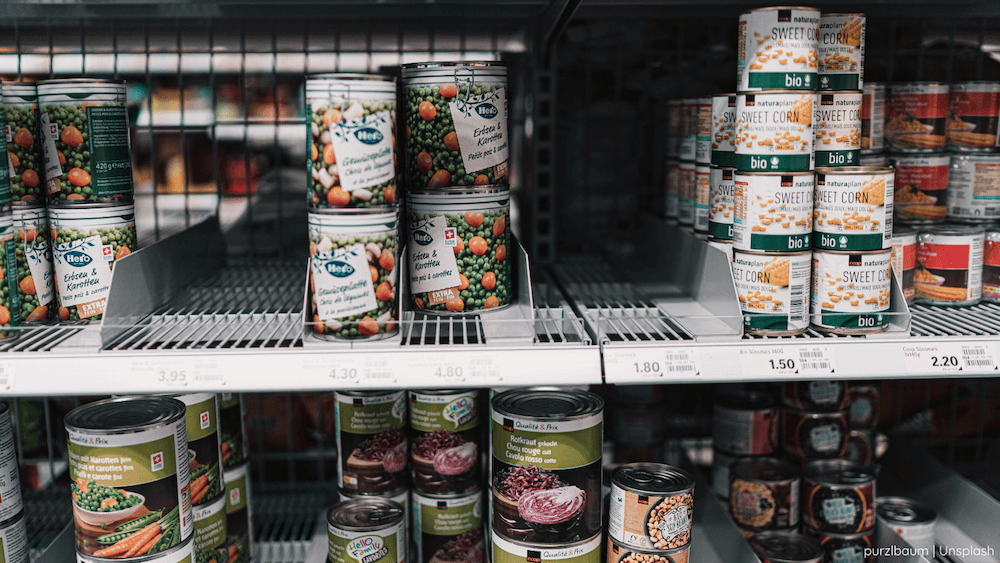 We're living in truly unprecedented times right now. For many of us, it'll be the first time in our lives we've ever struggled to do a normal weekly food shop – stockpiling and panic buying has meant that many of our usual grocery staples are off limits for now, so we're having to be a bit more creative with what we've actually got to hand.
As unsettling as this might feel, it's actually a great opportunity. You've got the chance to learn new culinary skills, add some creative new dishes to your repertoire, and generally just have a bit more fun in the kitchen. Learning about freezing food, how to prep meals in advance, and what to make from canned goods are skills that will also come in useful once this is all over too…
Read on for some kitchen hacks to help you make the most of what you have, right now.
Cook with less ingredients
Fact: some staple recipes only need a few ingredients to make. You can make fresh pasta with just plain flour and water; homemade bread from yeast, bread flour and water; cookies from banana, oats and any add-ins you've got; and basic hummus is as easy as chickpeas, olive oil and tahini – with a few spices to season.
Get creative and experiment with what you've got in your store cupboard. Sometimes all it takes is a tin of pulses, a tin of tomatoes and the right combination of spices to land on a seriously tasty dinner.
Know your substitutes
Things like eggs and flour are in short supply right now, but that doesn't mean you can't make a recipe without them. There are loads of ways you can swap out key ingredients and still whip up a good treat.
Missing eggs? If your recipe calls for them to add moisture and bind ingredients together – so things like cookies, brownies and cake – try substituting with apple sauce, mashed banana or even mashed sweet potatoes. If you've got flaxseed in the cupboard, ground them up and mix 1 tbsp with 3 tbsp of water – after 30 mins this will become a gel-like substance that can replace a large egg.
If you can't find pasta and don't have flour to make your own, consider using other grains like couscous and quinoa instead. Courgetti is a popular, healthy alternative that's made by shaving or spiralising courgette, and you can achieve a spaghetti-like vibe by spiralising cooked squash and sweet potatoes too.
Flour can be substituted quite easily too. Blending almonds or oats into a fine powder can achieve the same thing – or have a quick Google for specific recipes. Turns out flourless cake is a thing. #win!
Get smart with your freezer
Freezing is a great way to limit your food waste, prep food in advance and have a stash of meals ready for when you need them. But most of us actually don't really know what we can and can't freeze - and assume it's only ok to do it if the packet tells you so. Turns out you can probably freeze more items than you think...
Foods you can freeze:
Cooked pasta
Cooked rice
Nuts
Flour – this can be used straight from the freezer
Fresh herbs – these can also be used frozen
Butter
Grated cheese
Bananas – as long as they're peeled
Bread – just slice it first
Stock
Wine
Eggs – just crack them into small containers
Meat and fish – both raw and cooked
Make sure you let any food reach room temperature before freezing it, and make sure everything is popped into a sealed container or bag to lock in freshness. Things with a high water content - like lettuce and cucumber – won't be the same after being frozen and defrosted, so avoid these if you prefer. And one golden freezer rule: never refreeze raw meat that was previously frozen and thawed.
Foods you can't freeze:
Milk - it'll be lumpy when it defrosts
Deep-fried food or food with a crispy coating
Sour cream
Any dish with a crumb topping – it'll be soggy when it's thawed out
Check individual foods for recommended freeze times, but generally you can keep most things in there for 9 months to a year.
---
With a bit of imagination there's no reason why your lockdown diet has to be boring – and you can have fun experimenting too. Go forth and cook on!
Image credit: @purzlbaum, Unsplash.