Four sharing recipes for delicious house meals
Eating with flatmates is the best. It gives you a chance to catch up, stuff your faces, and share the washing up duties too (winner). But if your house meals tend to revolve around Deliveroo, it might be time for a rethink. Cooking together is way more fun, and it's lighter on your stomach and wallet too.
Don't fancy yourself as the next Jamie Oliver? Fear not. We've rounded up some easy shareable recipes that even the most newbie chef could take on.
To start: Nachos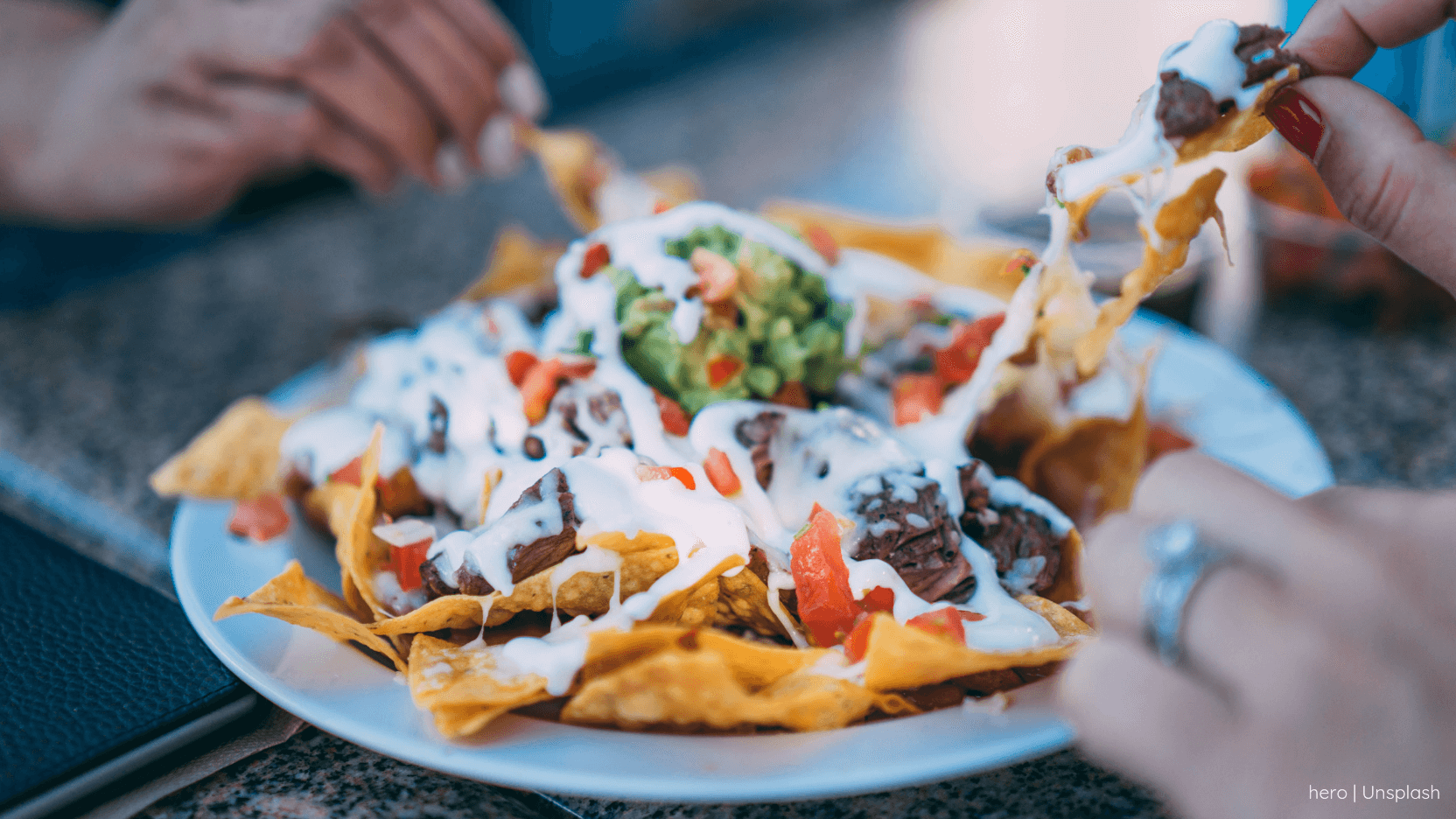 Crunchy, flavoursome and covered in melted cheese. What's not to love about a big plate of nachos?! The beauty of this Mexican dish is how versatile the tortilla chips are. Add fajita-spiced chicken or beef mince for a meatier plate, or swap the cheese for a dairy-free version and hold the sour cream for vegans – you can basically top them however you like.
[Serves four]
Ingredients
250g plain tortilla chips
225g jar salsa
4 sliced spring onions
½ jar jalapenos
A pinch of crushed chilli flakes
A big chunk of cheddar cheese (optional)
Your favourite toppings: sour cream, guacamole, cooked chicken, etc.
Method
Tip the tortilla chips onto a baking tray, pour the salsa over and sprinkle the spring onions and jalapenos on top.
Grate the cheese on top (if using) and add a pinch of crushed chilli flakes (plus any additional meat toppings), then put the whole lot under the grill for 4-5 mins until the cheese is melted and golden.
Serve with lashings of sour cream and guacamole (if using) on a big sharing plate. Best consumed using your hands!
The fishy main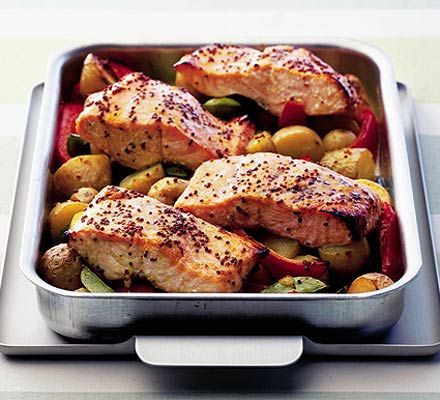 Fish dishes sound complicated, look impressive, but can be really straightforward. This tray bake is super simple and only uses one pan, which means less washing up too. It's light, fresh and the addition of fancy herbs makes it taste really gourmet.
[Serves four - recipe by Abel & Cole]
Ingredients
500g baby potatoes
2 fennel bulbs
2 lemons
500g baby plum tomatoes
3 cloves garlic
200g baby leaf spinach
600g fish pie mix, or 4 fish fillets of your choice (salmon, cod and sea bass work well)
1tbsp olive oil
Ground rosemary
Sea salt
Black pepper
Method
Preheat oven to 200°C/180° Fan/Gas 6. Put a large roasting tin in the oven to warm up.
Scrub your potatoes and chop them up into rough chunks. Halve your fennel bulbs and slice into eight wedges. Slice both lemons into four wedges.
Take the roasting tin out of the oven, and add 1tbsp of olive oil, potatoes, fennel and lemon. Season with salt and pepper and toss to combine everything. Put back into the oven to roast for 25 mins.
Meanwhile, halve your tomatoes and finely slice the garlic.
Take the roasting tin out of the oven, and add the garlic and a pinch of rosemary. Toss to mix, then nestle the tomatoes and lemon wedges in the tray. Add the fish pie mix on top, and roast in oven for 10 mins. If you're using different fish fillets, lay these on top and check the packet for cooking time.
Once everything's done the potatoes will be golden, fennel tender and the fish will flake easily when pressed with a fork.
Add the spinach to the tray and simply mix until the spinach has wilted. Serve in bowls with roast lemon wedges on the side, for squeezing.
The vegan main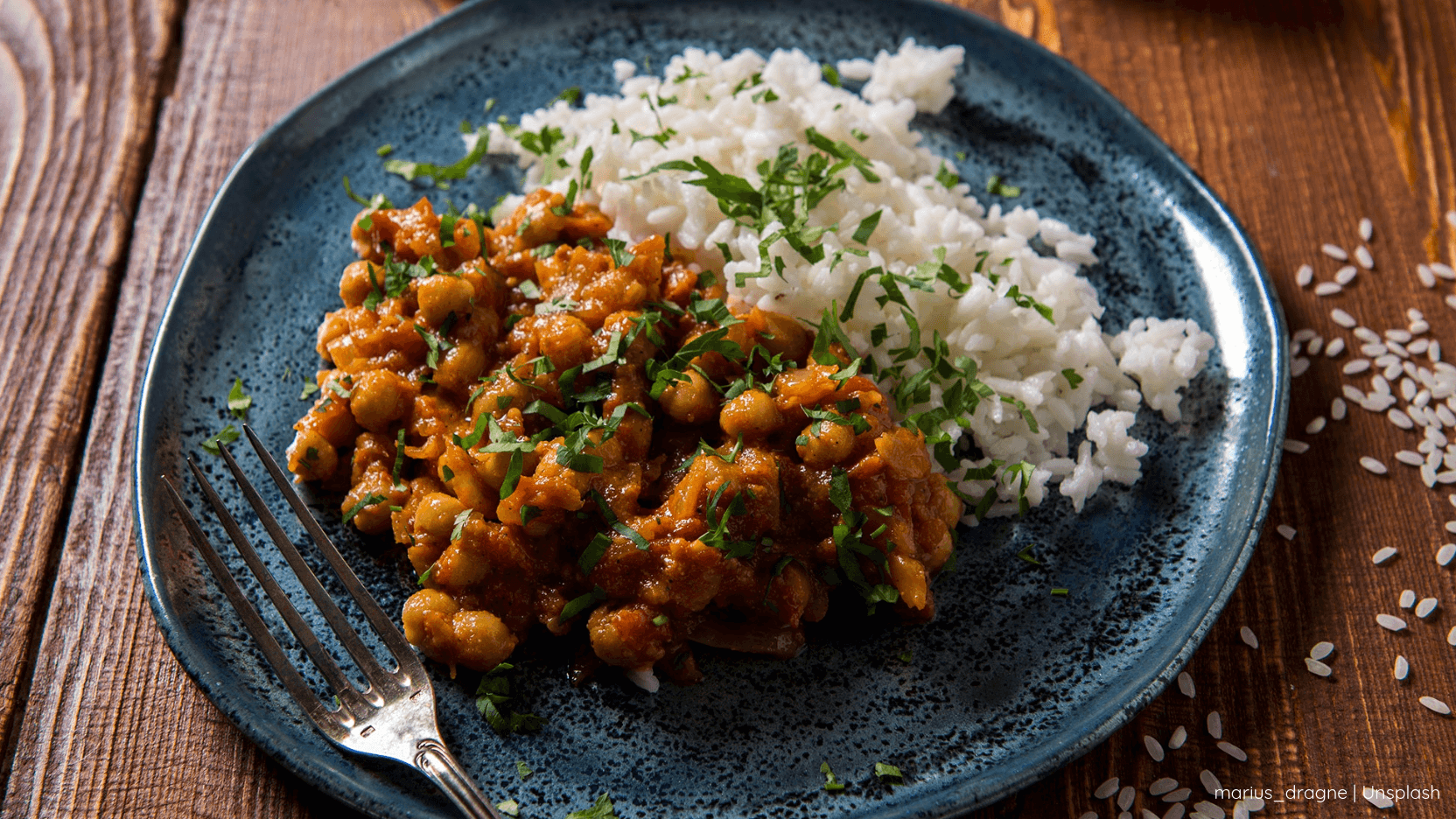 Meatless meals are far from boring – especially when they involve a load of spice and different flavours. This vegan curry is perfect for meat-eaters and veggies alike, and the absence of meat makes it a super cheap dinner recipe too. Serve it up for your next house dinner with plenty of rice and naans for dipping. The leftovers are great for lunch boxes too…
[Serves four - recipe by yupitsvegan.com]
Ingredients
1tbsp coconut oil (or oil of your choice)
1 large red onion, sliced
3 cloves garlic, finely chopped
1tsp ground ginger
1tbsp garam masala
1/4tsp ground turmeric
1/4tsp chilli flakes
1/4tsp salt
1x 400g tin chopped tomatoes
1x 400ml tin coconut milk
2 x 400g tin chickpeas, drained and rinsed
1 lime, juiced
Chopped coriander to garnish
Method
Heat your oil in a large pan over a medium-high heat. Add the red onion and a pinch of salt and cook, stirring frequently until the onion has softened and starts to brown.
Reduce the heat down to medium and add the garlic and spices plus a little salt and pepper, stirring and cooking for about 1 minute.
Add the tomatoes to the pan and stir well. Cook for 3-5 mins, stirring occasionally until the tomatoes start to break down and dry up a little. Stir in the coconut milk and chickpeas. Bring the whole mixture to a boil, then reduce the heat to medium-low.
Simmer for about 10 mins until the curry has reduced a little, then stir in freshly squeezed lime juice. Season to taste with salt and pepper.
Serve in bowls with brown rice and freshly chopped coriander on top.
To finish: No-bake Malteser cheesecake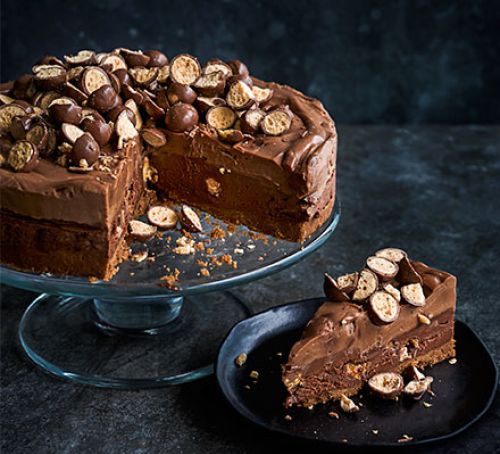 If you're anything like me, dessert is the best part of the meal to you. Who doesn't love an injection of sugar after a big savoury main?! This indulgent cheesecake might look worthy of appearing on Bake Off, but it's surprisingly easy to make – there's no baking involved so it's quite hard to go wrong. Rookie chefs and chocoholics: this one's for you.
[Serves 14, recipe from BBC Good Food]
Ingredients
130g butter, melted
300g chocolate digestive biscuits
150g milk chocolate
150g dark chocolate
250g mascarpone
300g full fat cream cheese
50g icing sugar
25g malted drink powder (i.e. Horlick's)
25g hot chocolate powder
1tsp vanilla extract
300ml double cream
150g Maltesers (100g chopped, 50g whole), plus an extra handful to decorate
100g chocolate buttons, chopped
Method
Grease a 23cm with butter. Blitz the biscuits in a blender or food processor until they resemble fine crumbs – you can also put them in a plastic bag and bash 'em up yourself with a rolling pin. Add the melted butter and blitz/mix again until the ingredients are combined. Tip the biscuit mixture into the tin and press down firmly with the back of a spoon. Chill in the fridge while you make the filling.
In separate bowls, melt the milk and dark chocolate over pans of simmering water. You can also melt the chocolate in the microwave in 30 second bursts, stirring between each interval until melted. Leave to cool.
Mix the mascarpone, cream cheese, icing sugar, malted drink powder, hot chocolate powder and vanilla extract until smooth – using either a hand whisk, or your own elbow grease! In a separate bowl, whisk the cream then fold into the mascarpone mixture. Add half of these mixture to each bowl of melted chocolate, stirring until combined.
Stir half of the chopped and whole Maltesers and chocolate buttons into the milk chocolate mixture, then stir the other half into the dark chocolate mixture.
Spoon the dark chocolate mixture onto the biscuit base. Top with the milk chocolate mixture and smooth over the top. Leave to chill overnight, then decorate with Maltesers just before serving.
Image credits: Herson Rodriguez, Dragne Marius, BBC Good Food.
Want an extra entry into Live Rent Free? The answer to the question below is your coupon for an extra entry into next month's prize draw – click the button below and enter it in the box (just the number, no percentage symbol needed). Be quick though, the code expires at 11.45pm on 23 August 2020. Good luck!
*Q: What chocolate confectionary is used in our suggested dessert recipe